Fibre Reinforced Polymer (FRP) products have been used in many areas, FRP threaded bars, FRP rebar, FRP pipe, FRP fully threaded tie rod, FRP waler etc. Fiberglass composite sheet piles are produced by the pultrusion process and designed for the harsh marine environment. FRP sheet pile can replace steel sheet piles perfectly, even in harshest conditions, like super long length, very heavy top load, contaminated soils. Project owners choose FRP sheet piles instead of steel sheet piling due to its structural integrity. Heavyweight Fiberglass sheet piles present a huge opportunity to make a project cost less, last long and create a lower environmental impact than steel. Fibre Reinforced Plastic (FRP) sheet piles have been used widely for retaining walls, seawalls, cut-off wall projects, containment and cofferdams. Fiberglass reinforced polymer sheet piles have many advantages compared with traditional steel sheet piles, concrete sheet piles, wood sheet piles.
FRP Sheet Pile Advantages:
1.Fiberglass sheet piling are non-corrosive, the service life of FRP products exceeds most products. With the current abnormal pH level, steel rust too quickly.
2. Fibre Reinforced Polymer sheet piles have similar structural integrity to steel, which means tie back system can be used with FRP sheet piles.
3.The installation of composite sheet piles are same with sheet piles, no extra equipments are needed.
4.More affordable: FRP materials have been recognized for their light weight and strong strength, which offers a very high strength-to-weight ratio. Lower weight means the costs of handling, labor, transpirations use less equipment and manpower, thus saving costs.
5 Nowadays FRP sheet piling systems are already available on the market, like FRP caps, FRP pipes, FRP tie rods, FRP anchoring.FRP sheet pile itself also have box profile, Z profiles etc.
FRP sheet pile sizes:

Section
Width
Height
Thickness
Profile
Allowable Moment
Section Modulus
Moment of Inertia
b mm
h mm
t mm
s mm
kNm/m
cm3/m
cm4/m
Fibre Reinforced Polymer (FRP)
UC-95
762
432
13.7
13.7
Z
216.84
3,145
67,870
UC-75
610
356
10.9
10.2
Z
140.85
2,043
36,325
UC-50
914
254
9
8.3
Box
77.10
1,118
14,200
UC-30
457
203
6.7
6.4
Z
48.19
698
7,101
Note: Other sizes are also available upon request.
FRP sheet piling installation
Installation of FRP sheet piling is easiest for contractors, because normal vibratory hammer, heavy duty pile drivers and other traditional steel driving equipments can be used. Other equipments, like plate tampers, air and diesel impact hammers, water jetting can also be applied with fiberglass sheet piles
FRP sheet pile accessories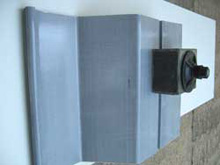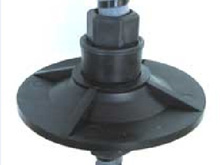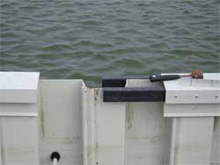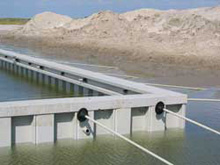 | | |
| --- | --- |
| Fiberglass fully threaded tie rods | Fiberglass capping beams and tie back system |
FRP sheet piles projects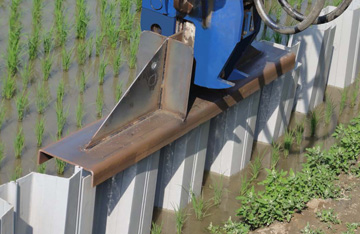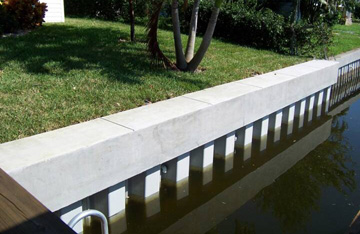 FRP sheet piles for River bank protection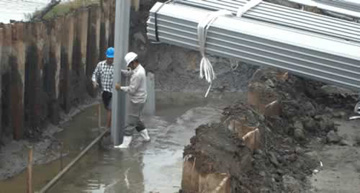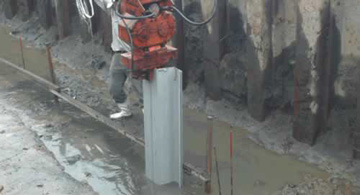 FRP sheet piles are driven to replace steel sheet piles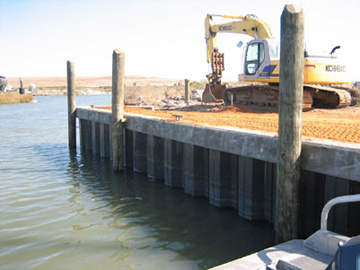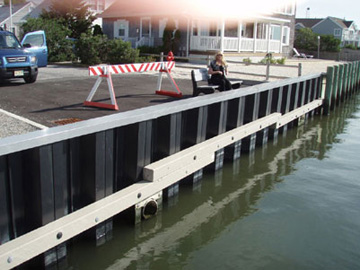 FRP sheet piles used for port constructions.