Sheet pile can be classified into steel sheet pile, vinyl sheet pile, timber sheet pile or concrete sheet pile, depending on the materials used. Steel sheet pile have been used over 100 years all over the world, but the steel rust and endless maintenance is the main disadvantages. Until the creation of vinyl sheet piles over 20 years ago, vinyl sheet pile solve all these problems. Vinyl sheet piling have different names: PVC sheet pile, uPVC sheet pile, composite sheet pile, plastic sheet pile , plastic piling , plastic sheet piling
Synthetic sheet piling etc, all mean same things. Today, PVC sheet piles have been used widely like seawalls, bulkheads, lake walls and water control structures etc. There are so many advantages of plastic sheet piles:
Vinyl Sheet Piling Advantages:
1. The Vinyl sheet piles never rust and maintains its original looks all time. The plastic sheet pile does not require any maintenance and always looks clean and good. The Vinyl piling can be supplied in different colors, no other materials can achieve this functions.
2. Durability: Composite sheet piles are resistant to sun's ultra violet rays and chemicals and are not affected by water organisms. Vinyl sheet piling are also resistant to rodent and marine borer attack and not effected by salt waters. Plastic can be used where steel, concrete, wood can not.
3. Easy to handle: Since Vinyl sheet piles are lighter than steel, so easier to hand and cut.
4.Plastic sheet piles are environment friendly. The sheet piles are manufactured from recycled plastic and don't contain any harmful substances which may leak into the environment. This make vinyl sheet pile the only options for home construction, health care, communications etc.
5. Low costs. Also because of its smaller weight, the transportations costs is relatively lower. In some countries, import tax is heavy for steel sheet pilings, but no tax for Vinyl sheet piles, which will make the final prices of plastic sheet piles much cheaper.
6. Nowadays Plastic sheet piling systems are already available on the market, like Vinyl caps, Vinyl walers, Vinyl tier rods, Vinyl anchors, Vinyl accessories are all available. That means as long as steel sheet piles can be used ,Vinyl sheet pile can also be used. The Plastic sheet piling itself also have different shapes, like box profile, Z profile, flat profile, trench pile, flat pile, corner pile, full pan pile etc.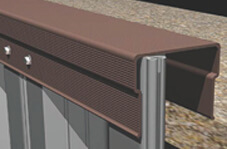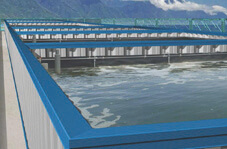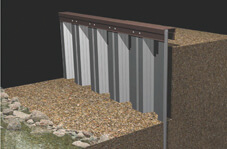 | | |
| --- | --- |
| Vinyl capping beams | Plastic sheet piling used as seawall and retaining wall |
Vinyl Sheet Pile Catalog
Section
Width
Height
Thickness
Profile
Allowable
Moment
Section
Modulus
Moment of
Inertia
b mm
h mm
t mm
s mm
kNm/m
cm3/m
cm4/m
Vinyl sheet pile
SG-950
457
305
16.5
16.5
Z
67.37
3,054
46,567
SG-850
457
254
13.1
13.1
Z
44.12
2,000
25,400
FP-575
610
229
12.1
7.4
Flat
37.01
1,677
12,430
SG-650
457
254
9.8
9.8
Z
35.11
1,591
20,212
SG-625
762
254
9.8
9.8
Box
28.94
1,312
16,660
FP-475
610
178
6.1
6.4
Flat
24.32
1,102
6,145
CL-9900
610
229
8.9
8.9
Box
23.72
1,075
12,290
SG-550
305
203
9.4
9.4
Z
23.13
1,048
10,652
SG-525
610
229
7.4
7.4
Box
20.87
946
10,788
CL-9000
610
229
7.1
7.1
Box
19.22
871
9,969
SG-425
610
203
7.2
7.2
Box
16.96
769
7,784
SG-300
305
178
6.4
6.4
Z
13.88
629
5,599
SG-325
610
178
6.4
6.4
Box
13.17
597
5,326
SG-225
457
127
5.7
5.7
Box
8.54
387
2,458
Note: Other sizes are also available upon request.
Composite sheet piling installation methods
We can provide advice on the different methods of installing Synthetic sheet piling. Short lengths can be inserted into the ground by hand with a mallet and Pile Cap, since it is very light. Longer lengths, or insertion into difficult ground conditions, will require more complicated installations.
Driving: This is the most widely used method of installing synthetic sheet piles. With pre-installed templates and vibratory hammers, synthetic sheet piles are mechanically pressed into the ground. Light machines with small impact energy are preferred to avoid any damages to the PVC sheet pile. What types of machines used depends on type of soils, the PVC sheet pile durability and driving depth required. A special guide bar called mandrel shall be used in hard and dense grounds. Several mandrels can be used same time to guarantee a smooth installation.
Jetting: In some cases, the grounds might be too tough and there might be obstacles in the soils, Vibratory hammers cannot drive the composite sheet pile into required depth. Jetting can loosen or remove soils and obstacles. Air ejector or special water might be used
Digging: In stony ground, you cannot drive the composite sheet piling, nor the jetting can be used. Contractors need to dig first. Then the plastic piling is installed in a ditch, which will be filled on both sides. Chemical or Mechanical hardening of the ground shall be applied. When using digging, the installation depth is normally small. If long sheet pile wall need to installation, steel sheet piling is definitely better than uPVC sheet pile.
Vinyl sheet piles projects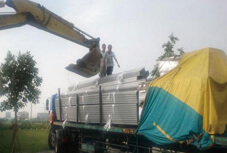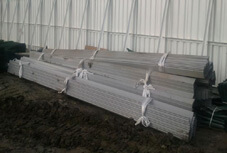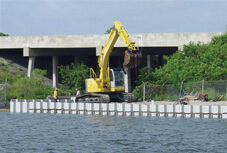 | | |
| --- | --- |
| Arrived on jobsites | Plastic sheet piles are used for seawalls, bulkheads, lake walls etc |